According to the National Association of Pharmacy Regulatory Authorities (NAPRA/ANORP), as of January 1, 2017 in Ontario alone there are:
Community Pharmacies in Ontario
Hospital Pharmacies in Ontario
Today's Pharmacists are highly respected experts of the health care team in Canada. Pharmacists are taking on expanded roles in patient health as more and more baby boomers enter retirement and as seniors command a growing share of the country's population.
Demand in hospitals and community pharmacies is particularly high, and will continue to persist. Thanks to this demand, there is almost no unemployment in this occupation.
Most accountants and financial advisors only target dentists and doctors. What about the other unsung heros of the health professional? The Pharmacist market is largely under-serviced and it's time for a change!
Accountants for Pharmacists
Our goal is to educate you in all aspects of your financial lives. We are first and foremost accountants for Pharmacists.
How we are different is our proactive approach to tax planning for you and your Pharmacy. We plan all tax strategies in advance, not last minute at tax time, and coordinate with your team of professionals (financial advisors, lawyers, etc.).
We believe in this "quarterback" approach to personal wealth management because it ensures everyone on your team is on the same page in reaching your financial goals. This approach is how we provide simplicity and convenience to you.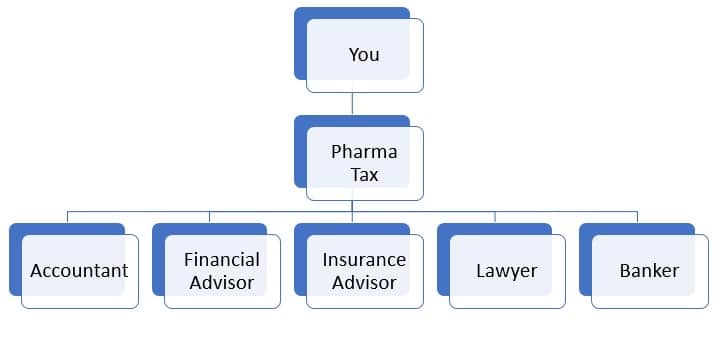 Pharmacists have a range of employment structures:
Some are staff or hospital pharmacists receiving T4 income as an employee;
Others are locums, who practice at multiple pharmacies
Others are franchise owners, who not only handle the clinical but run a store as well
And lastly, there are the independent pharmacy owners
For each one of these types of pharmacists, there are different accounting & tax planning needs. That's what makes this fun because we know that each client that walks through our door needs a unique, customized solution – no cookie cutter plans like what you get at the big banks.
To learn more about tax planning strategies for Pharmacists, contact us for a free consultation. If you are not ready for a consultation, keep up-to-date with the latest tax planning tips for Pharmacists just like you.
Ricardo Ardiles
CIM | Partner
Ricardo is a founding partner of Pharma Tax and focuses on providing tax planning strategies to health care professionals. His goal is to provide simplicity and convenience to clients by coordinating all areas of personal wealth management so that his clients don't have to. This means working with external professionals on: investments, insurance, business planning, retirement planning, and estate planning.