Part 2 of our Pension Plan series compares the benefits of the two types of pension plans: defined benefit and defined contribution. Your employer chooses which type they will offer to their employees but if you are currently job hunting for a staff or hospital pharmacist position, then finding a Pharmacy that offers a defined benefit pension plan is definitely a positive (if you can).
If you missed Part 1, which introduced the basics about pension plans, you can read it here.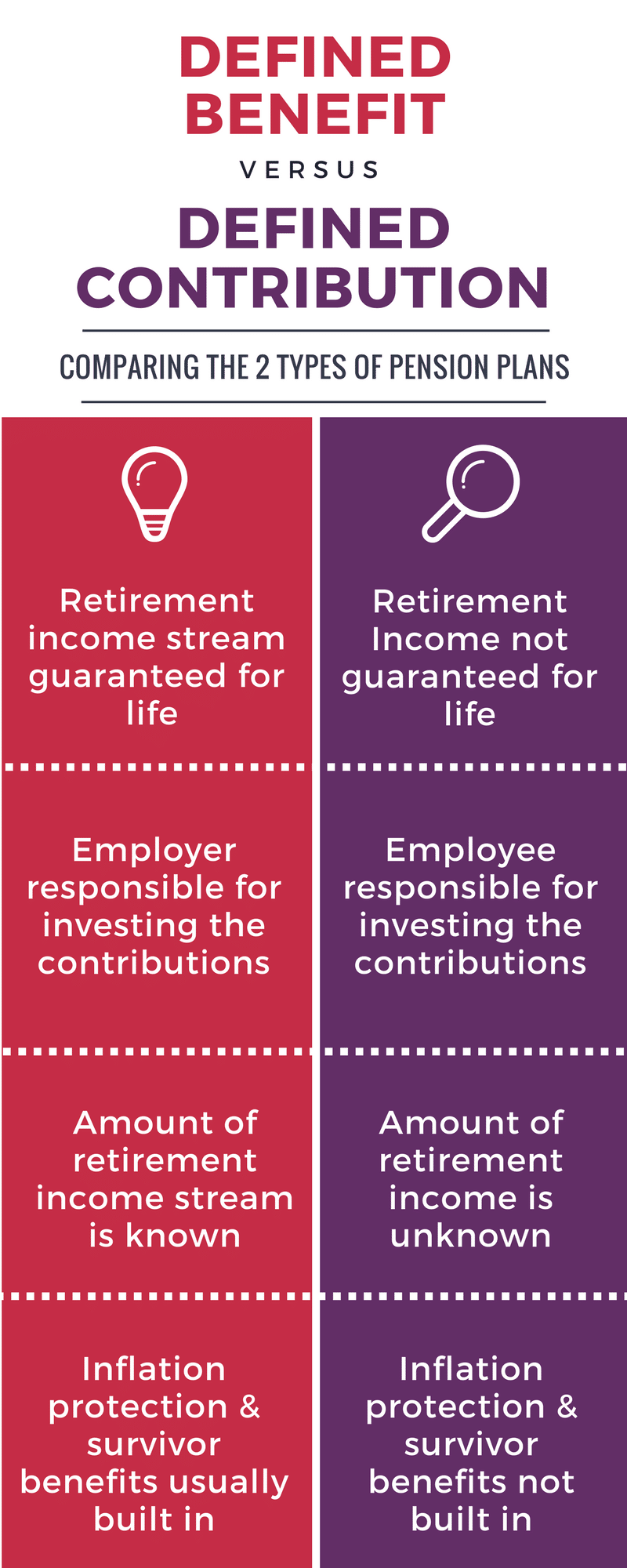 Defined Benefit Pension Plans
The goal is to provide you a guaranteed amount of retirement that is payable for life. The amount of income you will receive is pre-determined by a formula but is usually based on your level of earnings and years of service at the company.
Example: Annual Retirement Income = 2% * average annual earnings * years of service
Here is how DB plans work:
An actuary determines the annual contributions required to fund the plan
Employer & employee make contributions to the plan
Investments inside the pension plan are professionally managed for you
Most plans include inflation protection so that your payments are indexed to inflation
Most plans include survivor benefits so that in the event of death, your spouse continues to receive payments
Defined Contribution Pension Plans
The goal is to provide you income at retirement but the amount is not guaranteed nor payable for life. The amount you receive and how long it lasts depends on how much you and your employer contributed and investment growth over the years.
Here is how DC plans work:
Employee contributions are typically set to 1%, 2%, or 3% of annual earnings
Employers usually match 50% or 100% of employee contributions
Investments inside the pension plan are managed by the employee
Most plans offer inflation protection and survivor benefits for an additional cost
Usually, the investment options are limited and the employee must select from a list provided. If you are unsure what to select and how to manage every year, you should speak to an accountant for Pharmacists or financial advisor who can provide you with advice.
Defined Benefit plans are definitely the better of the two options because the amount of retirement income is known in advance, is guaranteed, and payable for life. In addition, you don't have to worry about the investments because they are professional managed for you.
What about Pharmacy Owners?
If you run your own Pharmacy and are incorporated, you have the flexibility of setting up your own pension plan and choosing whether you would like a defined benefit or defined contribution plan. In Part 3 of this series, we highlight this solution called an Individual Pension Plan (IPP).
Learn More About Pension Plans
If you have questions about your pension plan or are considering to join one with your employer, do not hesitate to ask us for advice. We offer a free consultation at your office or one of ours. Our aim is to educate Pharmacists in all aspects of wealth management.
Ricardo Ardiles
CIM | Partner
Ricardo is a founding partner of Pharma Tax and focuses on providing tax planning strategies to health care professionals. His goal is to provide simplicity and convenience to clients by coordinating all areas of personal wealth management so that his clients don't have to. This means working with external professionals on: investments, insurance, business planning, retirement planning, and estate planning.