When you visit any pharmacy, you will likely encounter many professionals working to fill prescription medications, help customers, and provide the public with the medications they need to feel their best.
Many career decisions can result in working in a pharmacy, and being a pharmacist is only one of them. A pharmacy assistant career is one of the many pathways that will result in you joining a pharmacy team.
So, what are pharmacy assistants? What do pharmacist assistants do, and what training do you need to become a pharmacy assistant? We will discuss this and more in our blog post.
What Are Pharmacy Assistants?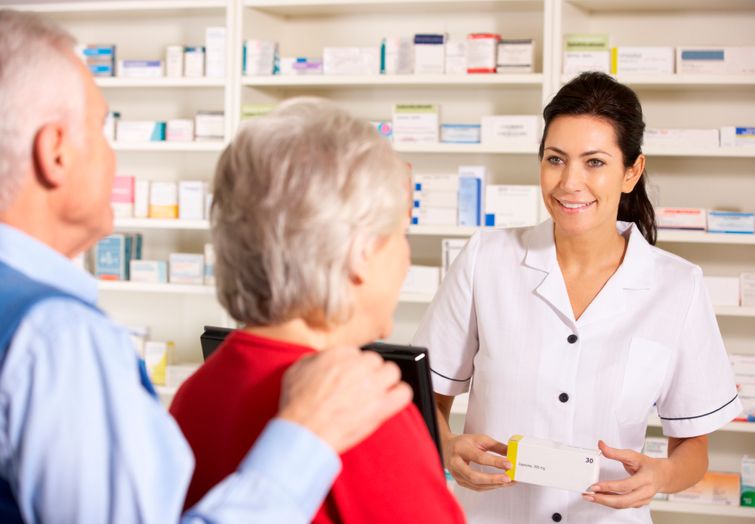 Pharmacy assistants help pharmacists and technicians with their day-to-day jobs by preparing, packaging, and labeling medication and prescription products. They work shifts, are detail-oriented, and offer excellent customer service to patients. A pharmacy assistant is a critical job in the success of a pharmacy.
Pharmacy assistants work at a wide variety of pharmacies, including hospital, community, and superstore pharmacies. Anywhere there is a pharmacist, a pharmacy assistant is not far behind.
What Are Pharmacy Assistant Responsibilities?
While pharmacy assistants are health care professionals, they do not have the medical knowledge or experience for handling specific duties like filling prescriptions. Instead, they take on other critical jobs to maintain a good pharmacy experience like:
Answering customer questions
Preparing, packaging, and labeling prescriptions
Ensuring proper drug storage and security
Entering patient information into computer systems
Placing and receiving orders to maintain inventory
Referring medication questions to the pharmacist
It's worth noting that the skills or tasks included in a pharmacy assistant job description vary depending on the location of the job. For instance, a community pharmacy assistant's duties will differ from pharmacy assistants working at hospitals. To help you get a better idea, we have listed the main duties of both jobs below.
The duties of a pharmacy assistant working at community pharmacies include:
Working a cash register
Answering telephones
Preparing benefits and third party insurance claims
A hospital pharmacy assistant's job requires:
Restocking drugs and solutions in nursing stations
Restocking drug kits for specific emergencies
Filling dose carts and delivering them to stations
A pharmacy assistant job description will vary depending on where you work. You will have to learn to adapt and strengthen other skills needed based on your work environment.
Pharmacy Technician vs. Pharmacy Assistant
Many people confuse pharmacy assistants with pharmacy technicians, but they are different jobs with different education and training.
The main difference between a pharmacy assistant and a pharmacy technician is accreditation. Technicians are required to have passed specific exams and be registered with the Ontario College of Pharmacists.
Pharmacy technicians' additional training allows them to complete several other jobs, including dispensing prescriptions, performing final checks on medications before giving them to patients, and providing verbal instructions to patients about their medication.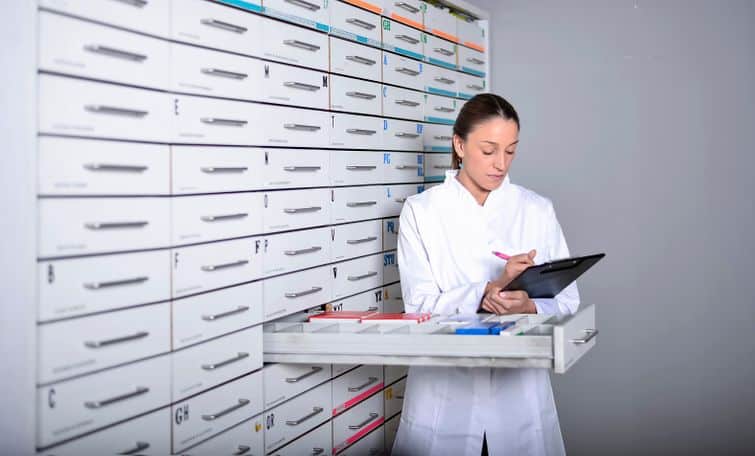 The Job Requirements: Becoming A Pharmacy Assistant
If you are considering a career as a pharmacy assistant, you will be pleased to discover that this job is easy to break into; the pharmacy assistant requirements include a caring attitude and a college certificate.
Pharmacy Assistant Program
You need to complete a pharmacy assistant course at a college to become a pharmacy assistant. The training takes 27 weeks, and it will teach you about medication, medical terminology, and other skills needed for a pharmacy assistant role.
No prior experience is required to apply to a pharmacy assistant college program. All applicants need to apply to the program is a high school diploma. The course will teach applicants all the skills and knowledge they need to hit the ground running in the healthcare industry.
How Much Do Assistants Make?
While everyone wants a job that they love, many also want it to pay well—and rightly so.
According to Indeed.ca, the average pharmacy assistant's salary in Ontario is $17.13 per hour. A technician role offers a more lucrative pay, around $24.44 per hour.
If the pharmacy assistant job description is appealing, you may be willing to take a pay cut. But the technician route offers higher pay. However, the higher rate of pay does come with some downsides; you need to take a 52-week course, you will have more responsibility, and you will need to hone more skills to do well in this field.
A Great Career
Overall, the role of a pharmacy assistant is a commendable job in the healthcare field. Assistants help ensure pharmacy operations go smoothly and according to plan. It is a worthwhile career for those looking to help others.