Do I Lease or Buy a New Car?
Many Pharmacists often come up to us and ask us if it is better to buy or lease a new car.  When you are in the market for that new shiny car, choosing the model & make most likely is the easy part.
The challenge then becomes do you buy or lease it.
Buying and leasing each have its advantages, but what is right for you depends on your situation, finances and longer-term plans.
Always make sure you ask questions of the terms and conditions of the lease details.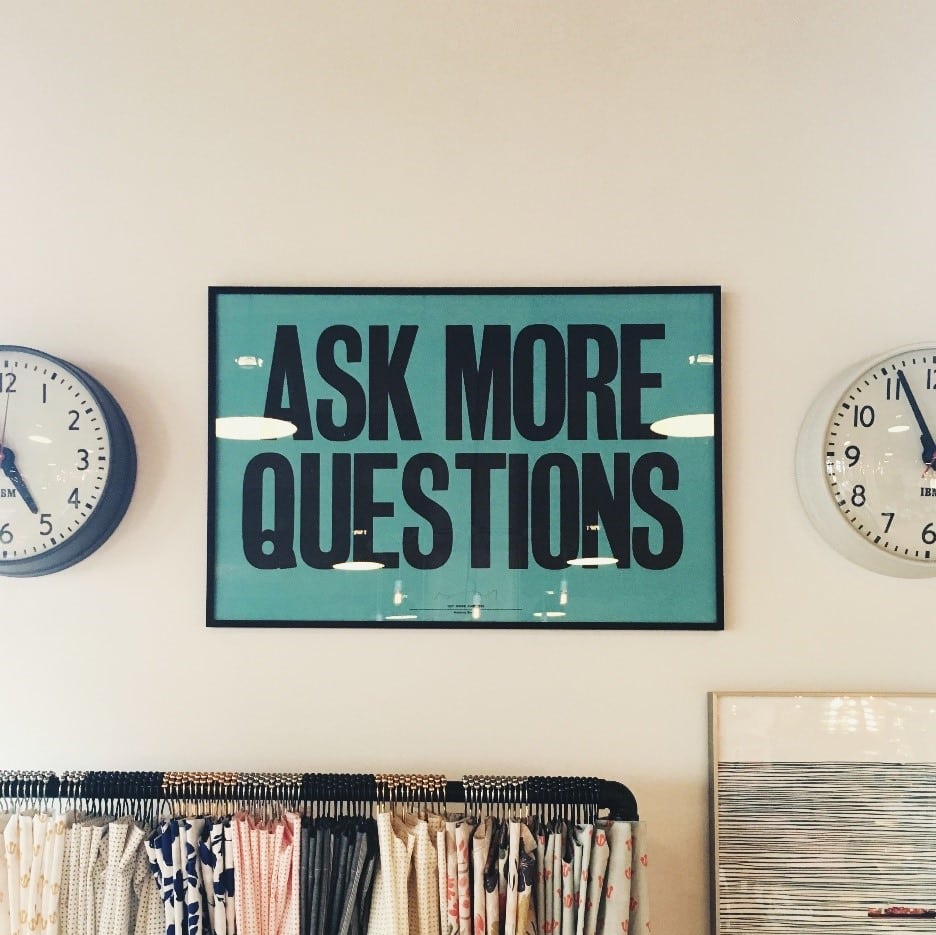 Purchasing:
When you buy a car, you can either pay for it in full or pay a portion of the price in the form of a down payment.
A loan for the balance of the payment is arranged and you can make monthly payments until the loan is paid off.
Sometimes the car company is offering compelling financing rates over a term so it makes splitting up the payments more compelling (for example GM may be offering 0% financing for 72 months).
If buying a used car, typically borrowing rates are higher than new car offers at the car dealer. Using a Home Equity Line of Credit (HELOC) will make sense depending on the interest rate terms.
For example, a local used car dealership in Burlington Ontario uses TD Bank as their lender but the rate is at 6.5% for a 72 months while most pharmacist clients can attain a Home Equity Line of Credit (HELOC) at 3.20% to 3.45%.  This is almost half the interest rate in most cases.
Used car dealers will typically push their inside lending rates as they make a commission from the bank that they have selected and will tell you that your HELOC is not fixed and payments could rise.
This is a true statement however, the odds that the Bank of Canada to raise interest rates by 3.0% is highly unlikely.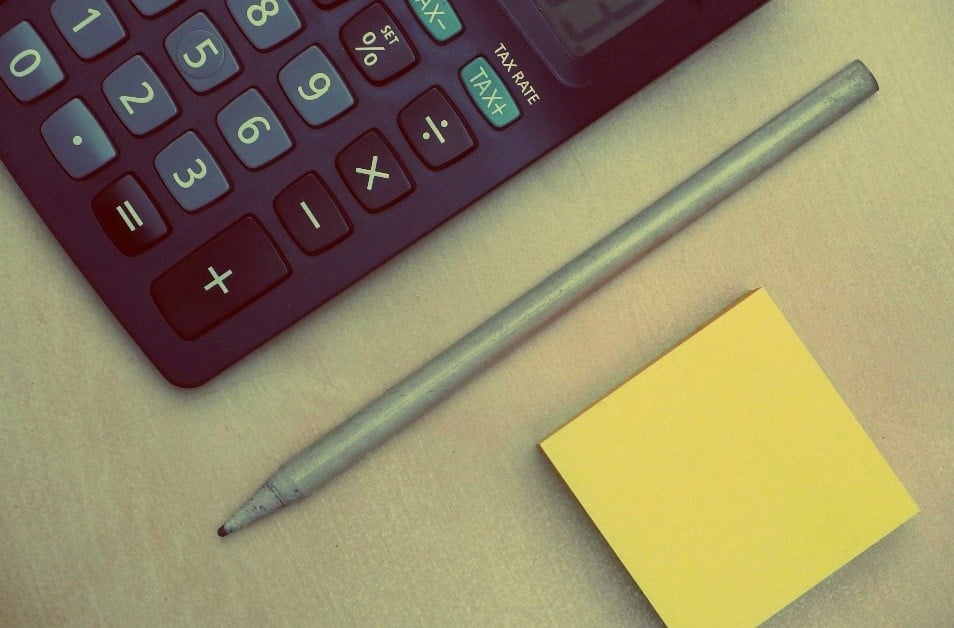 Leasing:
If you lease a car rather than pay the full purchase price, you pay (or borrow) only the amount that the car will fall or depreciate over the term of the lease.
This is why the monthly payments for a lease are typically much lower than to purchase the car.
Here is an example using a Q50 Infiniti (September Program):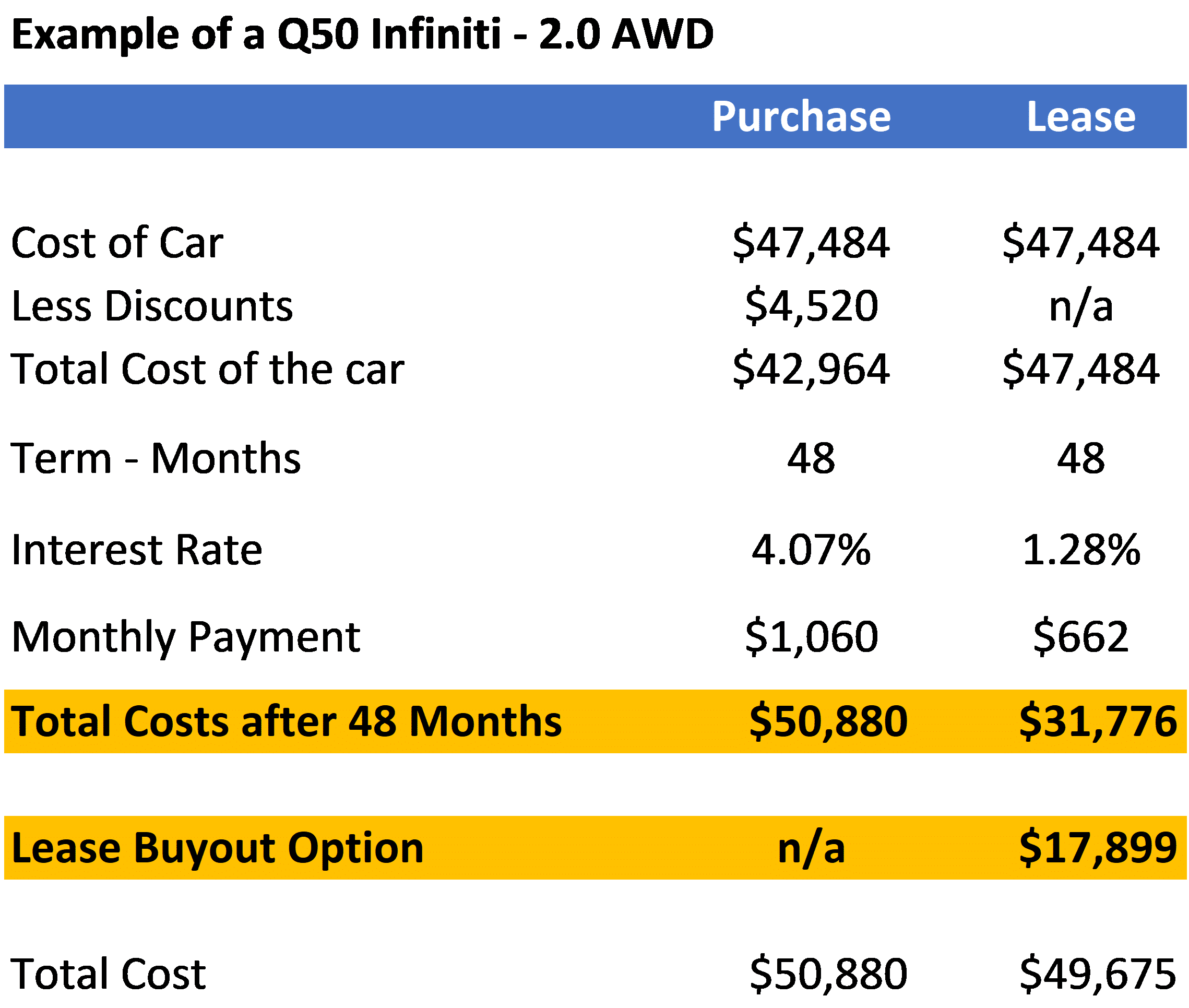 Lower payments can be compelling of course but at the end of the lease, you don't have any equity in the car.
When the lease is finished, you can purchase the car for the residual amount (the perceived value left on the car) or return the car and move on to a new lease or another term.
When you purchase the car, the loan payments will eventually end and you will have the car free and clear and can continue to drive and enjoy or sell it.
With this example, it actually works better if you lease the car due to the lower interest rate Infiniti is offering for their September promotion.
This is why it is always important to look at the details and terms.
The buyout option though will still have to be financed unless you have just over $17,800 in cash.  In that case the purchase of the car just pushes in front.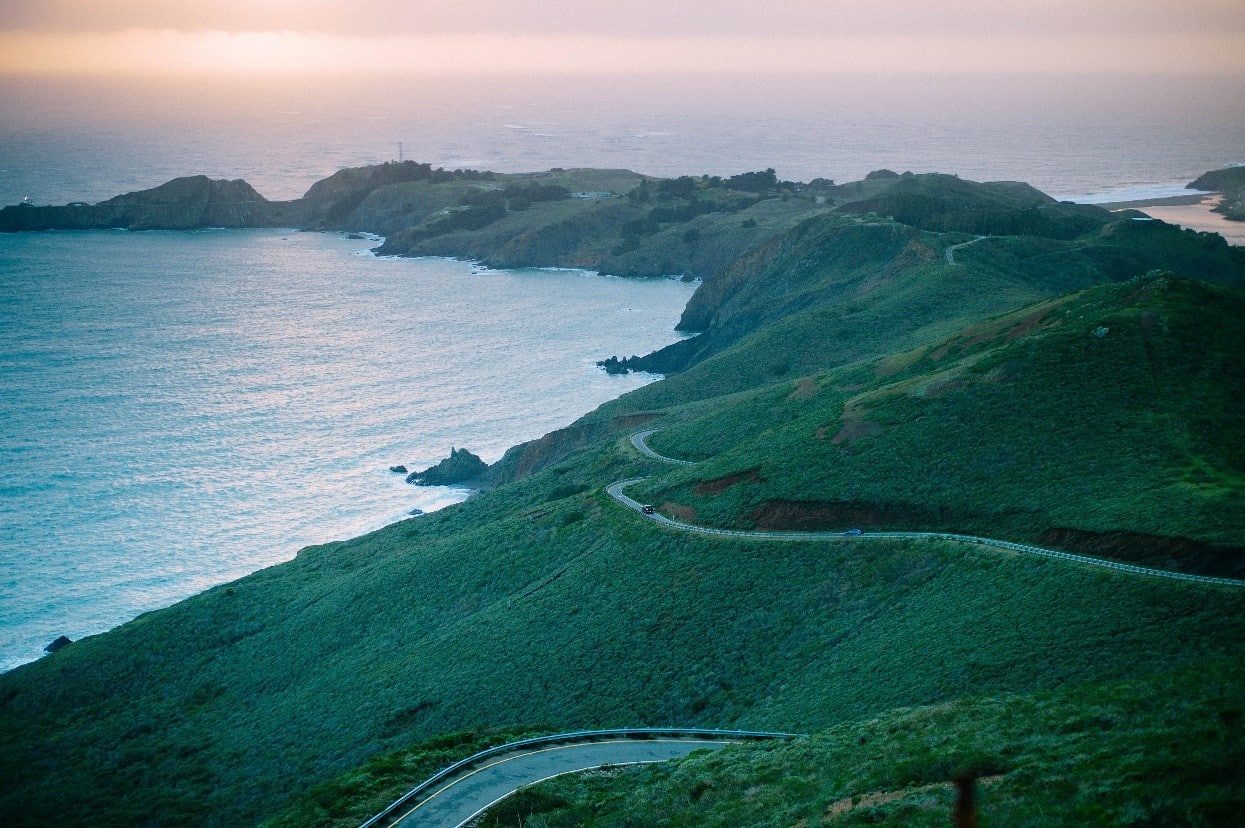 The Big Picture
While buying a car is cheaper in the long run, a lease may fit with your personal situation and lifestyle better.  Always read over the full lease agreement in terms of:
Kilometers overage charges
Excess wear and tear
Upkeep of the vehicle maintenance plan
Lease buyout (in case you keep the car)
If you like a change every three to four years, don't want to deal with potential warranty issues, and stay within the terms of your lease agreement, leasing may be for you as you do not have the aggravation of selling your car all the time if you buy.
Always speak with your advisor when making a larger decision as different car companies offer different benefits and terms.
Adam Tenaschuk
CIM, MBA | Partner
Adam is a founding partner of Pharma Tax and focuses on providing tax planning strategies to health care professionals. His goal is to provide simplicity and convenience to clients by coordinating all areas of personal wealth management so that his clients don't have to. This means working with external professionals on: investments, insurance, business planning, retirement planning, and estate planning.