Do pharmacists need critical illness Insurance?
Many of us will fall critically ill at some point in our lives, such as suffering a heart attack, stroke, or cancer.
According to the Canadian Cancer Society, 45% of men and 41% of women are expected to develop cancer in their lifetimes.
Let that sink in for a second. Almost 1 in 2 Canadians will develop cancer in their lifetime.
Did you know? The risk of suffering from a critical illness is greater than dying prematurely.
Yet, critical illness insurance is far less common than purchasing life insurance.
And Pharmacists, like most people, don't like getting insurance until you actually need it.
We insure our home, our office, our cars because we are forced to get it. If we had the choice, a majority of people probably wouldn't insure these items because of the cost.
We never expect to fall ill. But when a medical condition strikes, you don't want to be caught without support.
Here are 3 reasons why you should purchase critical illness insurance.
Developing a Critical Illness is a Reality
In today's world, Canadians are much more likely to becoming critically ill at some point in their lives.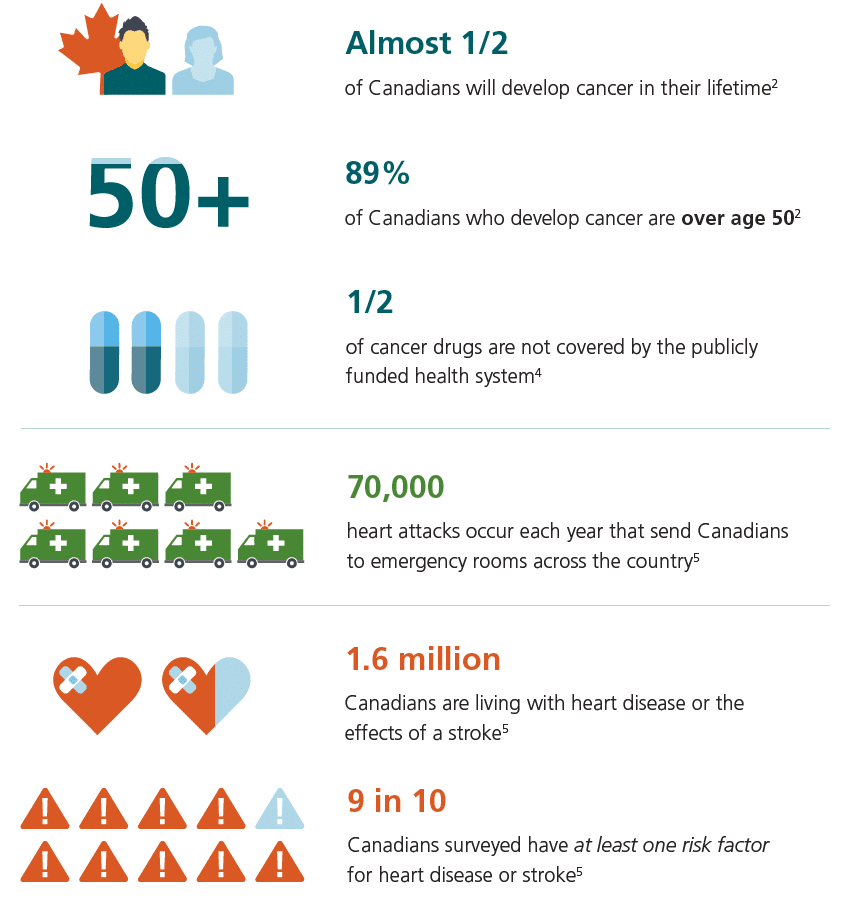 Many are unable to work for a short or extended period of time after suffering a critical illness. For pharmacy owners, this scenario can be especially difficult.
Even if you cannot work, your bills still keep coming in and need to be paid.
As a result, many suffer major financial implications.
Treatment Costs Can Financially Ruin You
Here is a look at survival rates and costs of suffering from a critical illness.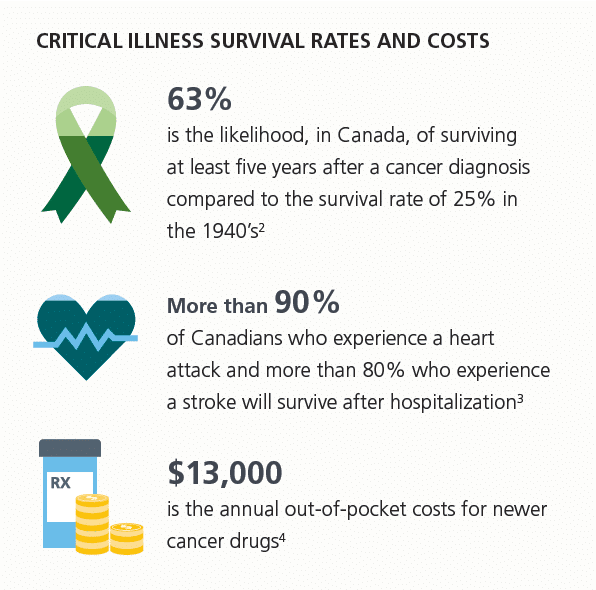 Thankfully, advancement in technology and medicine — thank you pharmacists! — has meant that more Canadians are surviving and living longer after suffering from a critical illness.
But that requires ongoing treatment. Who pays for this?
Provincial health drug plans in Canada do not cover many of treatments required to recover from a critical illness.
Here some hidden and out-of-pocket costs that are typically incurred:
Medication and treatment options not covered by government and employee health plans (example: newer cancer drugs)
Expenses related to day care and hospital visits (think parking and food)
Home care assistance & home renovations to accomodate illnesses (example: you have a stroke and cannot walk or take care of yourself)
Covering losses of income for both you and your caregiver
Don't let the financial burden of suffering from a critical ilness financially ruin your family.
Many Pharmacists Don't Have Coverage
Many franchise and banner pharmacy stores (Walmart, Loblaws, Shoppers, Rexall etc.) offer staff pharmacists a group health benefit plan where disability coverage is mandatory but critical illness insurance is typically optional.
And since many employers do not educate you as to why you should consider purchasing critical illness insurance, pharmacists often don't get it.
If you are an independent pharmacy owner or locum/relief pharmacist, you are responsibile for setting up your own health benefits coverage since you are the business owner.
For owners and locums, it is especially important to have coverage as you will not be able to work or watch the pharmacy while you recover and will have to bring in a relief or locum pharmacists to cover for you.
"But I have disability coverage, aren't I covered?"
Not quite.
Disability coverage pays you approximately 60%-70% of your pre-tax income, which means you will get paid less every month than what you normally receive.
And with your routine bills still having to get paid, many are unable to afford the added expenses that result from recovering from a critical illness.
How Critical Illness Insurance Works
Critical illness insurance provides a lump-sum, tax-free payment if you are diagnosed with a covered illness and survive for 30 days.
Covered illness typically include:
Cancer
Stroke
Heart Attack
Kidney failure
Blindness
Loss of a limb or speech
Major organ failure
Multiple sclerosis
Aortic surgery
Coma
Severe burns
Parkinson's disease
Alzheimer's disease
Paralysis
The list goes on but is policy specific and varies by insurer.
The funds can be used for anything and, unlike disability insurance, the payout is not determined by your ability to work.
With disability insurance, if the insurance company thinks you are capable of working, or you start working part-time, then disability payments will stop or be drastically reduced.
This is not the case with critical illness insurance – you can choose to work as much or as little as you want.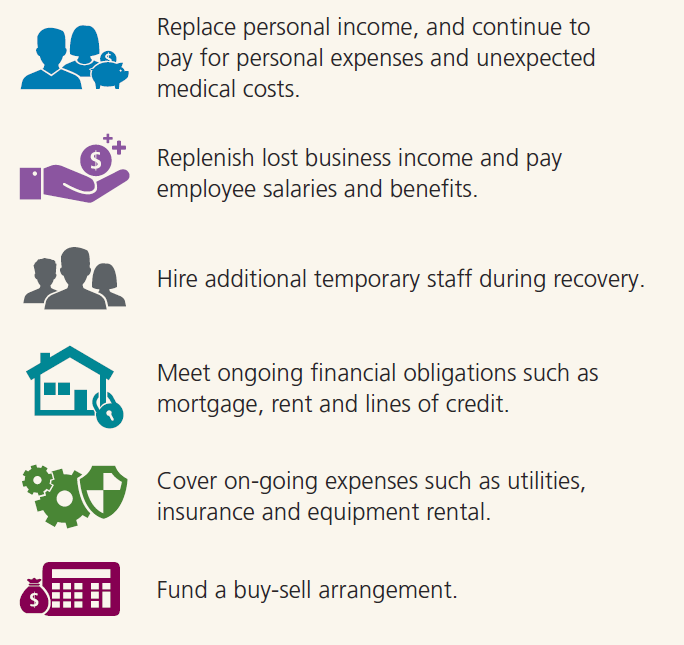 For staff pharmacists, these funds can help you replace lost income and continue to pay for out-of-pocket treatment.
For pharmacy owners, these funds can help keep your pharmacy going while you focus on getting better. Savy pharmacy owners know the importance of protecting their business.
Coverage Levels and Premiums
The amount of coverage you need depends on your lifestyle, but common coverage levels are
$50,000
$75,000
$100,000 (or higher for pharmacy owners)
You can purchase coverage based on a term (10/20/30 year or to age 65) or permanent basis (lasts for the rest of your life).
Term-10 means you are covered for 10 years, then premiums reset to market levels
Term-20 means you are covered for 20 years, then premiums reset to market levels
Term-30 means you are covered for 30 years, then you are given the option to convert to a permanent plan or simply end coverage
Term-to-65 means you are covered until age 65 and premiums can be set to a level basis, which is cheaper than getting Term-10 or 20 plans and renewing every 10/20 years
Premiums are based on your age, current health, and coverage level. The younger and healthier you are, the cheaper your premium will be.
There are options that you can add on to the policy, as well.
One option to definitely purchase is called return of premium, which means that if you die not due to a critical illness, then all of your premiums are refunded.
After years of coverage, this could mean thousands of dollars back to your family.
If you are a pharmacy owner who is incorporated, your corporation should purchase the policy and pay the premiums.
This way, you can use cheaper corporate dollars to pay for the premiums. If there is a claim, the benefits are paid to the corporation to help fund operations of your pharmacy while you cannot work.
OPA Coverage vs Personal Coverage
The Ontario Pharmacist Assocation offers critical illness as part of a group plan if you are a member.
While they offer discounts to members, here is why you should get a personal plan.
OPA 
Group policy, you don't own it (OPA does)
Terms and coverage can be changed or terminated at any time with notice
Premiums go up every 5 years (banded by age), which gets very expensive as you get older
Must be working full-time at least 20 hours per week
Term coverage only until age 60
No permanent plan offered
If you no longer are OPA member, coverage gets cancelled
Personal Plan
You own the policy
Once issued, terms cannot be changed
Once issued, policy cannot be terminated unless you stop paying premiums
Premiums are level (cheaper in long run)
Doesn't matter if you work full-time, part-time, or none at all
Term coverage lasts until age 65
Permanent plans cover you for life
Don't have to be OPA member
Why get insurance coverage through a group policy if it's not flexible?
The whole point of insurnace is peace of mind.
If you're unsure if coverage will be changed or cancelled on you in the future, where is the peace of mind in that?
While many pharmacists have heard of critical illness insurance, many do not fully understand the importance it plays as part of a sound financial plan.
The physical, emotional, and financial impact to you and your family can be devastating.
Critical illness insurance helps you worry less about your finances and to focus more of what really matters – getting better!
Do you know anyone who has suffered hardship due to a critical illness?
Adam Tenaschuk
CIM, MBA | Partner
Adam is a founding partner of Pharma Tax and focuses on providing tax planning strategies to health care professionals. His goal is to provide simplicity and convenience to clients by coordinating all areas of personal wealth management so that his clients don't have to. This means working with external professionals on: investments, insurance, business planning, retirement planning, and estate planning.
Footnotes
1 According to the Manulife InsureRight risk calculator
2 According to a report published by Canadian Cancer Statistics, Canadian Cancer Society, 2015
3 Canadian Heart Attacks & Stroke, Huffington Post
4 Average cost per patient for newer oncology drugs is $65,000 per year with an average co-insurance amount of 20 per cent. Report: Cancer Drug Access for Canadians, September 2009, Canadian Cancer
5 According to a poll conducted by the Heart and Stroke Foundation. 2014 Report on health – Creating Survivors, Heart & Stroke Foundation
6 Based on coverage count of active claims for individual non-cancellable CI products.